ENTRIES
Saturday, December 30, 2006
A

lright, i am kind of sad. TODAY'S THE last saturday. AHHHH' this is the first time i didnt actually anticipate for school reopening. i always anticipated it. but not this time. maybe its because not long after school reopens, its the o's. dont really like the sound of it. but it still got to be here one day no matter what. woke up really early today despite sleeping only at 4am. think i woke up at 9+. did some maths questions and was about to go mad. so went to jie's room turn the laptop on and watch it started with a kiss. watch 1 EP. then dont feel like watching le. so decided to blog since last night erjie said that its been some time since i blog. well, true. cause kind of lazy what. anyway, have lots to update today.



1.Trip to the Singapore Zoo
2. Trip to Jurong Bird Park
went to the zoo on the 19/12/06. the trip isnt very fantastic. but overall i give it 3 stars*** out of 5 since it was raining all day long. but being at the zoo on a rainy day isnt bad. at least you get to see empty enclosure instead of people's back. since when its not raining, there is always so many people crowding around so you do not get a chance to see the animals. maybe it doesnt happen to you but it happens to me often since i am short. saw Daphne over there too. was kind of suprise. cause didnt expect to meet any one i know there except for the Ah Mengs that i didnt reconise:)). btw, i was there with dajie, erjie and Armand(cousin). it's actually the first time i was holding an umbrella by myself for so long since i hate using umbrella. especially for sunny days. anyway, ever since then, i have been using the umbrella when ever it rains. that day was the second day of the heavy heavy rain. thank God we left there just at the right time. cause if we were to leave a little later, the roads were actually flooded due the the constant rain.
2. Trip to the Jurong Bird Park
it was on the 23 of dec. was there for christmas caroling.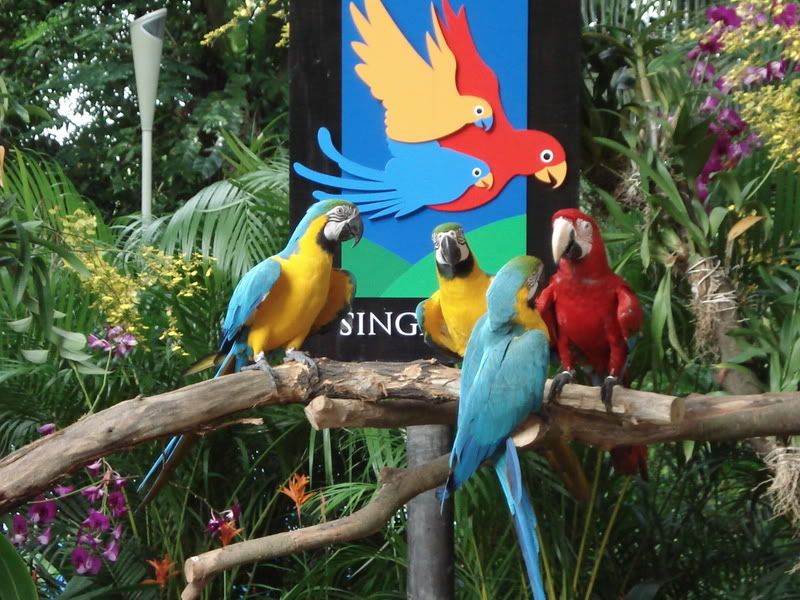 jurong bird park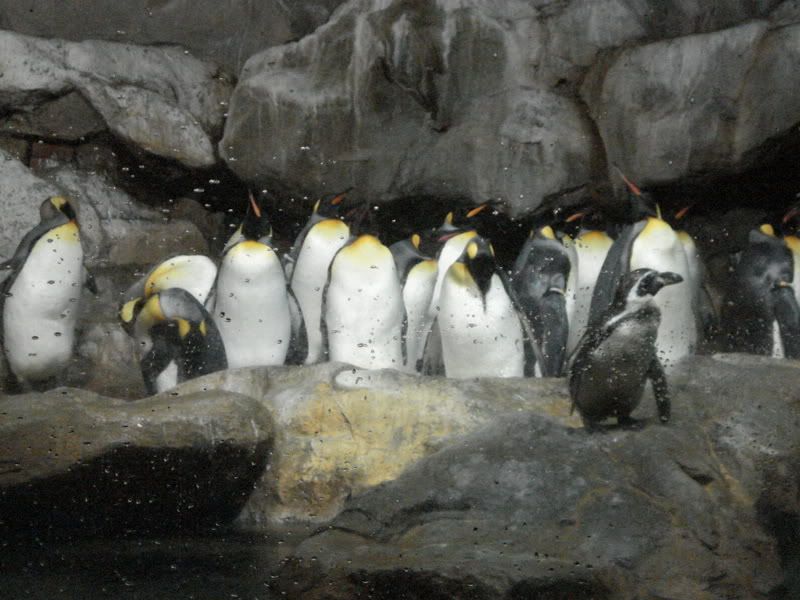 penguins
flamingo
mins before caroling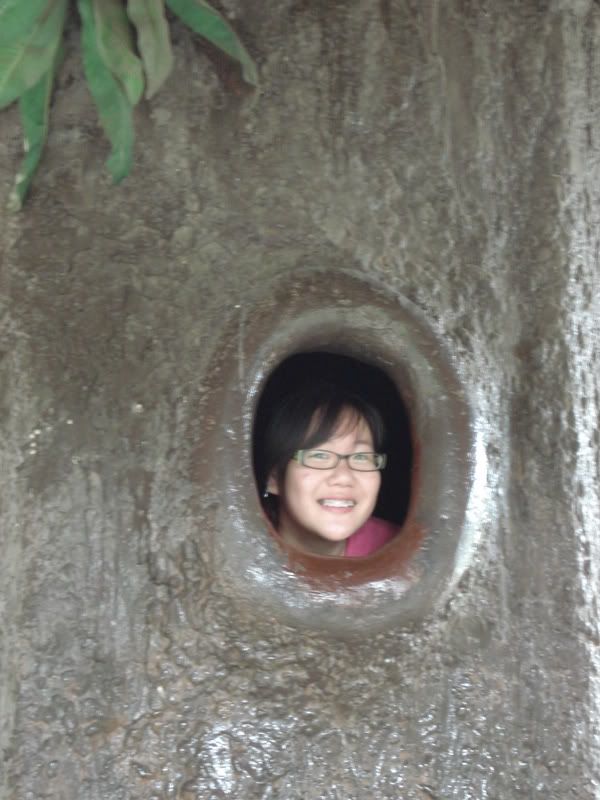 being cheeky
feeding parrot((:
after that went touring around the park with aunt jane, armand and dajie.
Christmas 2006
spent christmas at aunt jane's. got Rain's cd as christmas as present. cant really remember much though. spent the night over there.
New Year Resolution
1. Study, study, study
2. Lose weight
3. Tidy everything!!!
jallyfish
jallyfish
12/30/2006 12:16:00 PM
0 magical wish(es)
Friday, December 08, 2006


few more weeks before the holidays draw to an end. well, will be missing it though. but life still have to go on! jia you.
still cant believe that new years the year. the o's are here. not very prepared though. it was just like ytd that i entered a new school. and in no time i will be stepping in again as an alumni. hah. at that time you will get to see your little juniors no longer little.
just came back from genting not long ago, or rather 4 days ago. it was a rather interesting trip. freak outt! anyway love the temp there. it's cold. very cold at night. iLIKEit! took a lot of photo((: but on my aunt's cam. will post if i can get it:D
jallyfish<3
jallyfish
12/08/2006 04:29:00 PM
0 magical wish(es)
Saturday, November 18, 2006


i
was
suppose to write somethings. but all of a sudden my mind is in a total black after seeing some pictures. i just can believe how some people can just be wild about ppl and stuff. (esp ppl. it's like 'duh~' that it wont last forever. but you are just wild about it. so by the time things end. who will be the one suffering?
[ whatever ]
i will be going genting on the first of dec. hope it will be fun((:
think i will be having a pet fish. but its just a little or maybe two little goldfish. but just small ones. i dont want those
troublesome
big and beautiful fishes.
jallyfish<3
i got my braces on already.
will be changing it on the 25 nov!
jallyfish
11/18/2006 07:27:00 PM
0 magical wish(es)
Friday, October 20, 2006


congrats to me! i dont need to retain! yeah. but sadly, a lot of the others did. well, if they are really not ready then perhaps they should not promote. i think that its actually not as bad as people usually think. its true that a year is wasted. but you might be even better and even more ready for your o's the next year. you might be better than the rest as you already know the concept of the subjects already. not like the newbies who are totally new towards the subject. you will still stand a chance ahead of them. but you must also work double bouble hard. but remember. all these are all might. if you still are like before not working hard its no use at all. if you retain and you did not work hard again and retain
again
, i really dont know what to say.
jallyfisH
jallyfish
10/20/2006 06:24:00 PM
1 magical wish(es)
Sunday, October 01, 2006


well, exams are just round the corner. or rather exams are just tml. and i am still no where. have not started studying! die! just dont know why. everytime when exam are weeks away i will urge mydelf to study. and i did. but stop after a while telling myse4lf that exam are weeks away. so just relax first lar.
anyway later goin to study with bernice. so i guess just a short update. need to go shower. if not later late..
jallydish
so dead
jallyfish
10/01/2006 12:33:00 PM
0 magical wish(es)
Saturday, September 16, 2006


ok, i admit. i was suppose to be studying now instead of blogging. but i couldnt resist a labtop which is already switch on without anyone using.l but a promise to myself that i will only blog today and not doing other stuff like watch loveless. lol. anyway, went to ikea ytd. bought quite a lot of thingss. like quilt, the cover, table lamp, 2 mouse pad as clip board, wanted to buy photo frame but didnt know the size. btw its for the class photo which ii still have not gotten it and will not get it in the near future. there was a mistake on the class photo anyway. instead of putting 3e4, they put 3e3. this shld be because of the fact that we went first instead of 3e3 as they couldt find mr tham.
anyway, i couldnt agree more with nimred that mr tham teaching
DID
improve a lot. maybe its because its been a long time since we get lesson straight. we keep having NIE teachers. which i didnt really like. except for the fact the we are expose to more teacher (different type of teaching). and that we know more teachers. but anyway having NIE teachers is yummy cause everytime the leave we will have chocolate. HAHA.
*sweet tooth
.
erjie zen finally came this morning. by post. it look lind of fake. but its ok to me after you paste on the sticker. and anyway, this morning. i woke up quite early. or rather very early to me. i seriously woke up around 10 and started studying. while studying, i felt quite hungry so i went down to get some food and also the papers too. i think i can say that this is the first time which i woke up early and started studying and my breakfast isnt instant noodles.
had completed my coursework. and was quite happy that i got 30/50 for my test. you can think that its low but all ms sri paper isnt easy. and i think i was
one of
the highest in class. if i am not wrong. didnt really ask. anyway i was initially talking about the trip to ikea. our or rather my sister's main motive there is to get a new sofa. and we got it! will be here next sunday. cant wait. but 1 thing bad is that after chairs gone, and the sofa's here, theres no space for my shoes. cause i always throw my shoes under the chair. haha. so now must find alternative to where i can put my shoes. cause the shoerack outside is already full. and there is not really a shoerack indoor. but i dont pretty much care cause by the time the boat reaches the port, everything will be just fine.(translated from chinese!)
anyway before i go, i think i will be putting on braces soon. and amoung my friends, no body knows unless they read this. so if you dont read my blog,
you just lose out
. haha.
jallyfish<3
jallyfish
9/16/2006 04:36:00 PM
0 magical wish(es)
Thursday, September 07, 2006


i still have not finish studying my geog. still got the case study left. and the cdase study is like i totally cannot remember a single thing!! what i realised is that i also have chemistry test on tues. anyway my geog test is on mon. and its like already thurs. i also dont know what to do with my crystal growing. its like when school reopen need to pass up the logbook and the poster. now the logbook which i completed 3/4 of it. and its now with yijun. and i doubt that she know what to do because she only turn up once for lab session. the best thing, i dont have her contact. she dont have mine. and i think 70% she will not do anything. ms chen already ask her to do as she is aware that she have not been doing anything. so now you tell me how.
jallyfish
9/07/2006 10:06:00 PM
0 magical wish(es)